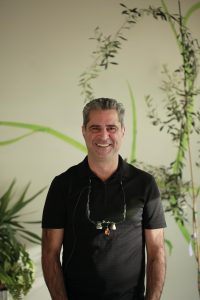 Kurosch Hatami, DDS
Cosmetic & Family Dentist
Dr. Kurosch Hatami was born in Nurnberg, Germany, and has lived in the bay area for over 30 years. After graduating from Monta Vista High School in Cupertino, he attended the University of San Francisco, receiving a bachelor's degree in biology. Dr. Hatami went on to receive his Doctor of Dental Surgery from the University of the Pacific in San Francisco.
Dr. Hatami has been practicing dentistry in the Bay Area for over 20 years. Dr. Hatami's treatment philosophy begins and ends with preventive care. He is very enthusiastic about the plethora of restorative options available to patients.
"The benefits of good tissue management provide the basis for healthy supporting structures of the teeth. Healthy gums and bone have far-reaching benefits to the dental and overall physical health of patients." — Dr. Hatami
In his private time, you may find Dr. Hatami enjoying time golfing and biking. He also has been a fan of soccer as a spectator as well as a participant since childhood.
Languages: English, Farsi, German and French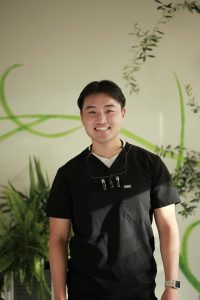 Andrew Sun, DDS
Cosmetic & Family Dentist
Dr. Andrew Sun was born and raised in the Bay Area and grew up in San Ramon (before all the cool restaurants came).
He completed his undergraduate studies, as well as his doctorate, at University of the Pacific, where he was a writer for the school publication as well as a volunteer for the Philippines mission trip. Dr. Sun continues to volunteer his time in Stockton for St. Raphaels Dental Clinic, providing emergency treatment for those less fortunate, and remains a member of the ADA®, CDA, and local study clubs. Dr. Sun takes pride in his work as well as educating his patients and improving their oral-systemic health.
When not at the practice, Dr. Sun spends time with his family, friends and Bichon, and he never turns down boba.
Languages: English and Mandarin Chinese
Galina Nasakin, DDS
Cosmetic & Family Dentist
Dr. Galina Nasakin graduated in 1983 from the School of Dentistry at Moscow State University. After successfully completing national and California state board requirements, she began her dental practice in California in 1995. Dr. Nasakin has over 25 years of invaluable clinical experience, which has allowed her to excel in accomplishing predictable, aesthetic and functional results in patients who have extensive restorative needs. Her philosophy is to treat dental problems early, thus preventing extensive and costly treatment later on, and work to make sure her patients are comfortable with their treatment decisions. Hence, she makes sure that her team at the front desk is resourceful, competent and helpful in providing information to her patients.
Being a general practice and family-oriented dentist, Dr. Nasakin has had extensive experience working with senior adults, as much as with her younger patients, and she takes great care and places great awareness in planning treatment around each individual need and concern. This quality has allowed her to build lasting relationships with her patients over the years. Dentistry runs in her family, as her son has followed her footsteps, and she is excited to have the opportunity of working with him.
Outside of office hours, Dr. Nasakin spends her time with friends and family, hiking, and training her Havanese proper puppy etiquette.
Languages: English and Russian
Jung Han, DDS
Periodontist
Dr. Jung Han is originally from Seoul, South Korea. She earned her Doctor of Dental Science degree from Yonsei University in 2002 and completed her postgraduate training in periodontology at Indiana University School of Dentistry in 2007. Dr. Han also received a master's in the science of dentistry for her research on connective tissue grafting for gingival recession. After graduation, Dr. Han moved to South Florida to teach full time at Nova Southeastern University College of Dental Medicine for four years.
She is a Board Certified periodontist and a member of American Academy of Periodontology and the American Board of Periodontology.
When not at the office, Dr. Han devotes her time to her family. She lives with her husband, son and a cat.
Languages: English and Korean
Darryl Caesar, DDS
Orthodontist
Dr. Darryl Caesar is a Canadian native and completed his undergraduate work at University of Ottawa. He attended the first dental school in the world, the University of Maryland College of Dentistry, and completed a two-year general practice residency (GPR) in New York City. He then went on to complete his orthodontics training at Howard University College of Dentistry.
As a young child, Dr. Caesar felt like orthodontic treatment was a rite of passage mandated by his parents. However, later in life, he realized how important his orthodontic journey and treatment was in establishing his self-esteem and enhancing his confidence. He believes his smile is one of his best assets and allows his personality to shine through.
One of Dr. Caesar's strengths as an orthodontist is being able to effectively communicate and explain his expertise and knowledge in a digestible manner that makes it easy for all patients to understand. His main goal as your orthodontist is to create a fun and nonthreatening environment where patients will look forward to their appointments, be comfortable and rest assured that they are in good hands throughout the orthodontic treatment journey.
When Dr. Caesar is not at work, he enjoys traveling the world, going to art exhibits and concerts, trying new vegan restaurants, and searching for the best boba tea. He does not have any animal pets, but he is a "plant dad" to six plants and enjoys nurturing them. Dr. Caesar recently relocated from the Central Valley to Oakland and is excited to discover the Bay Area.
Languages: English
John Wayland, DDS, FAGD
Extraction With IV Sedation
Dr. John Wayland is focused on the early removal of third molars — wisdom teeth.
Dr. Wayland has removed more than 40,000 impacted third molars, including germectomies, with IV sedation. As a specialist, he sees many teens who could benefit greatly from our service, and he makes sure we follow up with every patient after their surgery, helping to reduce complications (and even increase referrals from happy teens).
He looks forward to working with you.
Languages: English
Ghazala Khan, DDS
Endodontist
"My goal is to provide my patients with the highest level of care utilizing the most advanced technology in a compassionate and ethical manner. I strive to exceed this goal every day." — Dr. Khan
Dr. Ghazala Khan graduated from University of California, San Francisco, School of Dentistry in 2003. She maintained her association with UCSF by pursuing a general dentistry program for a year. She also worked in the hospital dentistry clinic at UCSF, where her practice focus was dentistry of special needs patients. She carried out all aspects of general dentistry both in the operating room as well as in a clinical setting. While at UCSF, she held the position of associate director of the GPR/Hospital Dentistry Program. In 2007, she started her postgraduate training in the field of endodontics at UCSF. She completed her residency in 2010 and has been in private practice ever since.
Her Memberships Include:
American Association of Endodontists
American Dental Association
California Dental Association
Contra Costa Dental Society
U2 (UCSF, UOP) Endodontic Study Club
Languages: English, Urdu, Hindi and Punjabi